Ui Soundcraft® MIDI application for iOS and PC
A must-have app for all owners of Soundcraft Ui mixers (Ui12/16/24r). This app allows the user to control all volume, reverb, chorus, FX sliders etc. remotely with any MIDI controllers connected to your iPhone or iPad or PC or Windows tablet such as the Microsoft Surface series.

New Windows PC (or tablet) 2.1 version!

2.1.10 - fixed MASTER fader feedback on 9-port motor MIDI consoles (e.g. Behringer X-touch)
please update your app via MS store to current version! - new GAINS MIDI control on input channels
- new call your MIDI presets/banks with single button!
- new LED VU meters on input channels (in MC mode with compatible MIDI controllers)!
- new SAVE and LOAD your settings and presets. Easy backup!

A big batch of updates in new 2.0 version!

- new creation of user PRESETS / BANKS >>
- new DIRECT ACCESS to saved SCENES and CUES via MIDI
- new GUITAR DIGITECH sims module controlled by MIDI controllers and pedals >>
- new support for universal "Mackie protocol" of professional MIDI controllers >>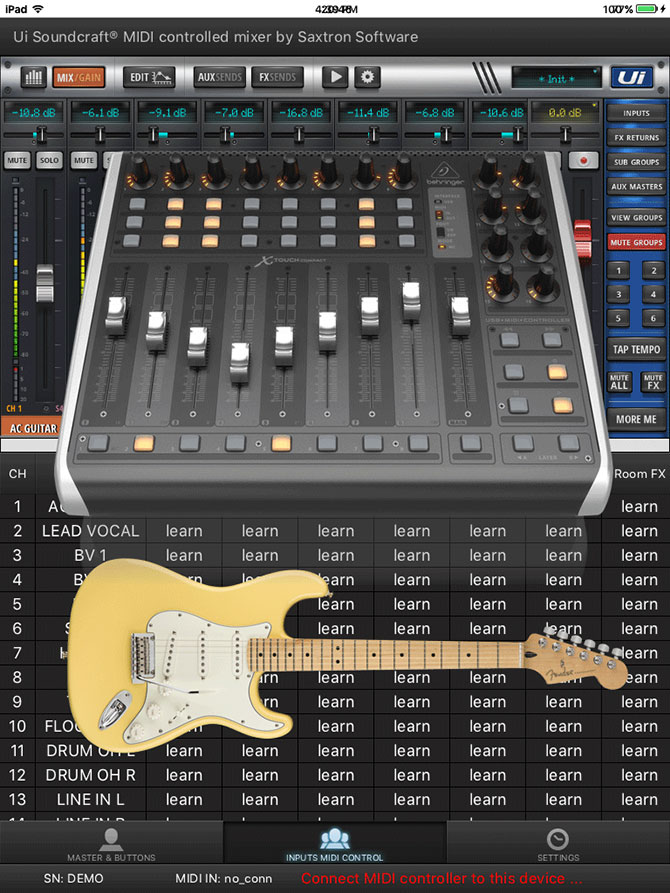 You can comfortably assign "virtual" faders from your Ui mixer to the hardware MIDI controller using built-in "learn" function. You can now control all MICS, LINE inputs, SUBS, DRUMS or GUITAR volume (reverb, chorus, delay ...) using your hardware MIDI equipment like MIDI keyboards (with faders or knobs) or MIDI pedal etc. without touching the display!
You can remotely, comfortably and quickly enable/disable FX effects with your hardware buttons on your MIDI controller.
News in 1.5 version?
added MIDI control of phones outputs via AUX BUSes (only Ui12/16 mixers)
added autostart of motorized faders position by connecting MIDI controllers
improved scene and cues switching by MIDI (only U24 mixers)
News in 1.4 version?
added selection of channels via MIDI (for easy and fast layout switching - e.g. equalizer settings)
added option of automatic channel selection (while moving the faders)
added PANORAMA assignment to physical MIDI knobs on connected controller with feedback (on MIDI devices equipped with LED indication)
added GLOBAL TAP function (to set delay tempo via MIDI)
fixed and improved recognition of connected MIDI controllers - "MIDI IN: no_conn" issues
better support for new iOS (incl. iPadOS)
News in 1.3 version:
advanced MIDI control of AUX BUSES via MIDI (each musician can have complete control over the aux-mix send level for each channel)
support for MOTORIZED FADERS (e.g. BCF2000/X-TOUCH Midi controllers ...)
feedback of Ui FADERS and BUTTONS STATUS on hardware controller (levels, solos, mutes etc ...) in real time! (only MIDI contr. with LED indicators)
added MIDI messages NOTE ON/OFF to drive Ui BUTTONS and Ui functions (extended "learn" function)
support for two or more MIDI controllers connected at once in cascade via USB!
access to all VCA faders via MIDI (only Ui24r users)
control PREV, NEXT SNAPSHOTs and CUEs via MIDI (only Ui24r users)
fixed PLAYER func. on Ui24r mixers
What you need:
Soundcraft® Ui mixer (Ui12/16 or Ui24r)
USB MIDI controller - (e.g. Korg NanoControl2, Alesis, Akai, Novation MIDI controller, X-touch ...)
iPhone or iPad (iOS 8 or later) with Lightning to USB Camera Adapter or
Windows PC or Windows tablet (such as Microsoft Surface)
Ui Soundcraft® MIDI controlled mixer app :)
Now available on the App Store for iOS devices



Windows version available on the MS Store





Support page for Ui Soundcraft® MIDI application >>