Hands free control of Guitar DIGITECH engine in Ui MIDI application for Soundcraft Ui mixers (Ui12/Ui16,Ui24R)
Now for all guitar players who use the great Ui Soundcraft mixers!

Hands free to control Digitech effects and simulations in Ui mixers via MIDI!

Change the presets with the foot switch. Control the volume, gain and equalizer with pedal as you are used to.
Take full advantage of the high quality Digitech simulation in your Ui mixer with new Ui MIDI mixer iOS app!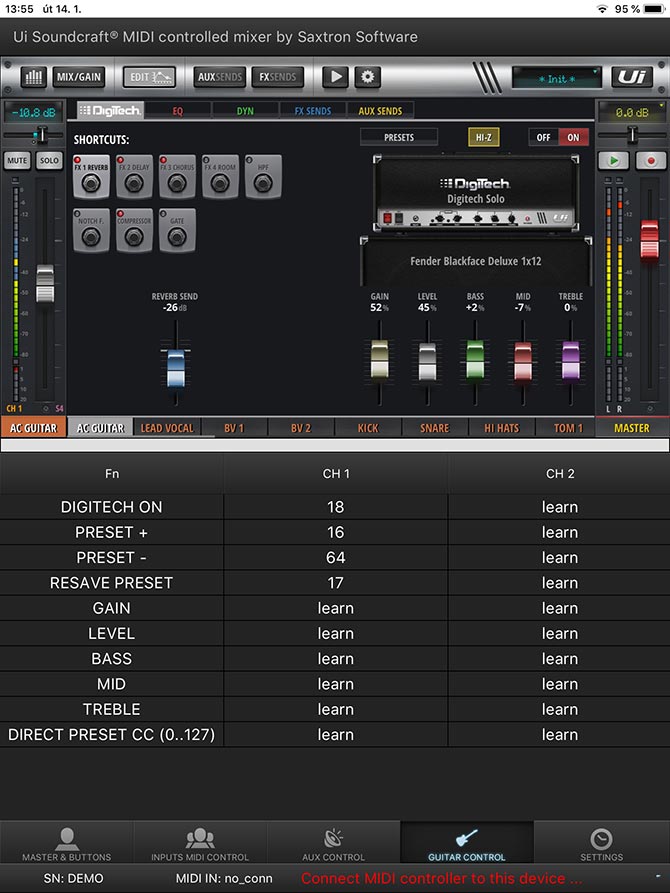 Easy guitar setup in UiMixer app:
Connect your USB GUITAR MIDI PEDAL controller (e.g. LINE 6 FBV Express MKII) to your iPhone/iPad via Camera Adapter. When your MIDI contr. is recognized in apps status bar you'll see MIDI_IN: OK
Tap the "learn" field in the row with the feature you want to assign:
Assignable functions:
DIGITECH ON: assign to the pedal switch to enable Digitech Ui engine on selected channel
PRESET + : switching to next PRESET*
PRESET + : switching to previous PRESET*
RE-SAVE PRESET: this "re-save" switch saves the current state of all faders, FX effects and set DIGITECH simulations to the currently loaded preset. What will be saved in the preset depend on Guitar setting in MAIN SETTINGS of Ui app: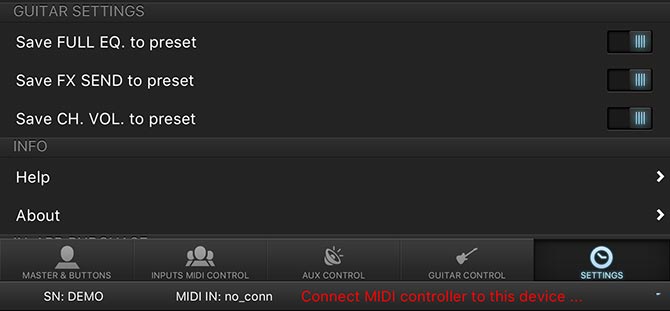 This is an extension of saving other settings like full equalizer settings, FX effects (reverb, delay, chorus, rooms), CH. volume TO PRESETS! This is new feature of Ui MIDI app - not build-in in Soundcraft Ui software. Originally, only the basic DIGITECH settings are stored in the preset. Now you can save detailed EQ, FX and guitar volume settings to preset and recall it with a single press of the pedal!
GAIN, LEVEL, BASS, MID, TREBLE - you can assign this to any pedal or fader to control those functions
DIRECT PRESET CC (0..127): You can now select PRESET directly by number up to 128 presets (e.g. First switch will be 1. preset - assign this switch to send MIDI CC 0 ... if CC value will be e.g. 60 when sending MIDI message CC 60 00 switch DIGITECH engine to PRESET 1 ...
Working with DIGITECH sims in Ui MIDI app 2.0 via MIDI pedal LINE 6 FBV Express MKII:
DIRECT GUITAR INTO SOUNDCRAFT Ui SERIES - BEST SETTING ROCK/METAL: