Support for Ui Soundcraft® MIDI application
1. Introduction - basic operation
2. Working with MIDI PRESETS / BANKS
3. Working with GUITAR DIGITECH sims
4. User defined and universal "Mackie mode" support in Ui MIDI app
1. Introduction - basic operation
Connect your USB MIDI controller to your iPhone/iPad via Camera Adapter. When your MIDI contr. is recognized in apps status bar you'll see MIDI_IN: OK
To try MIDI function on DEMO Ui mixer application (you'll need access to the internet) switch DEMO mode "ON" and press button "Open mixer"
Please allow a moment to load the mixer application
When the mixer application is fully loaded in an opened window you can now ASSIGN the mixer function to a particular MIDI controllers as:


on the "MASTER BUTTONS" page press on the first line "MASTER volume" third column (CC) field "learn"
Now should pop-up "Move MIDI controller to assing" window
slightly move with FADER (or knob) on your MIDI controller
on the main Mixer window you should see movement of the RED fader (Master volume)
repeat these steps for assigning next mixer faders on "INPUTS MIDI CONTROL" page
to assign buttons (e.g. MUTE FX) simply press matching buttons on your hardware MIDI controller

For adjusting MIXER/settings window size simply touch and drag SPLITTER band in the middle of the screen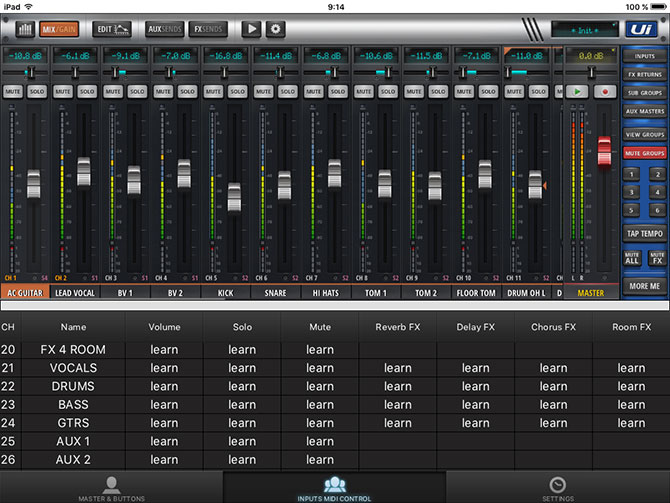 If you have all controllers assigned its recommended to "LOCK" your settings (to avoid overwritting) by "LOCK setting switch".
For best viewing you can hide header and status bar by "HIDE" switch.
MIDI buttons can be set globally as "MOMENTARY" by "CC button ANY value" switch
"SNAP" function works on FADERS to avoid drastic change on strips (e.g. volume)
If you want to run application while your iPhone/iPad is locked enable "Run app in background" mode.
If your MIDI controller is in Mackie mode, turn on Mackie compatibility mode "MC mode".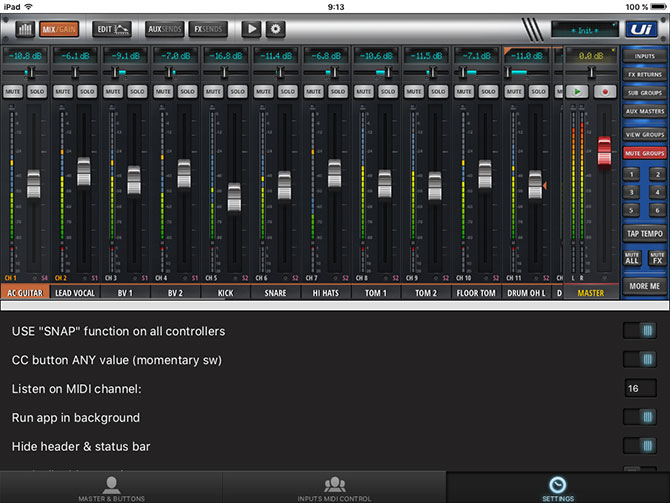 Run app with real hardware Ui mixer:
Switch ON your Ui(12/16/24r) Soundcraft® mixer and setup corectlly Wifi connection
Connect your iPhone/iPad to Ui mixer (select Ui Wifi AP point in Wifi list)
Press "Open Mixer" button and enjoy your music in the new application :)